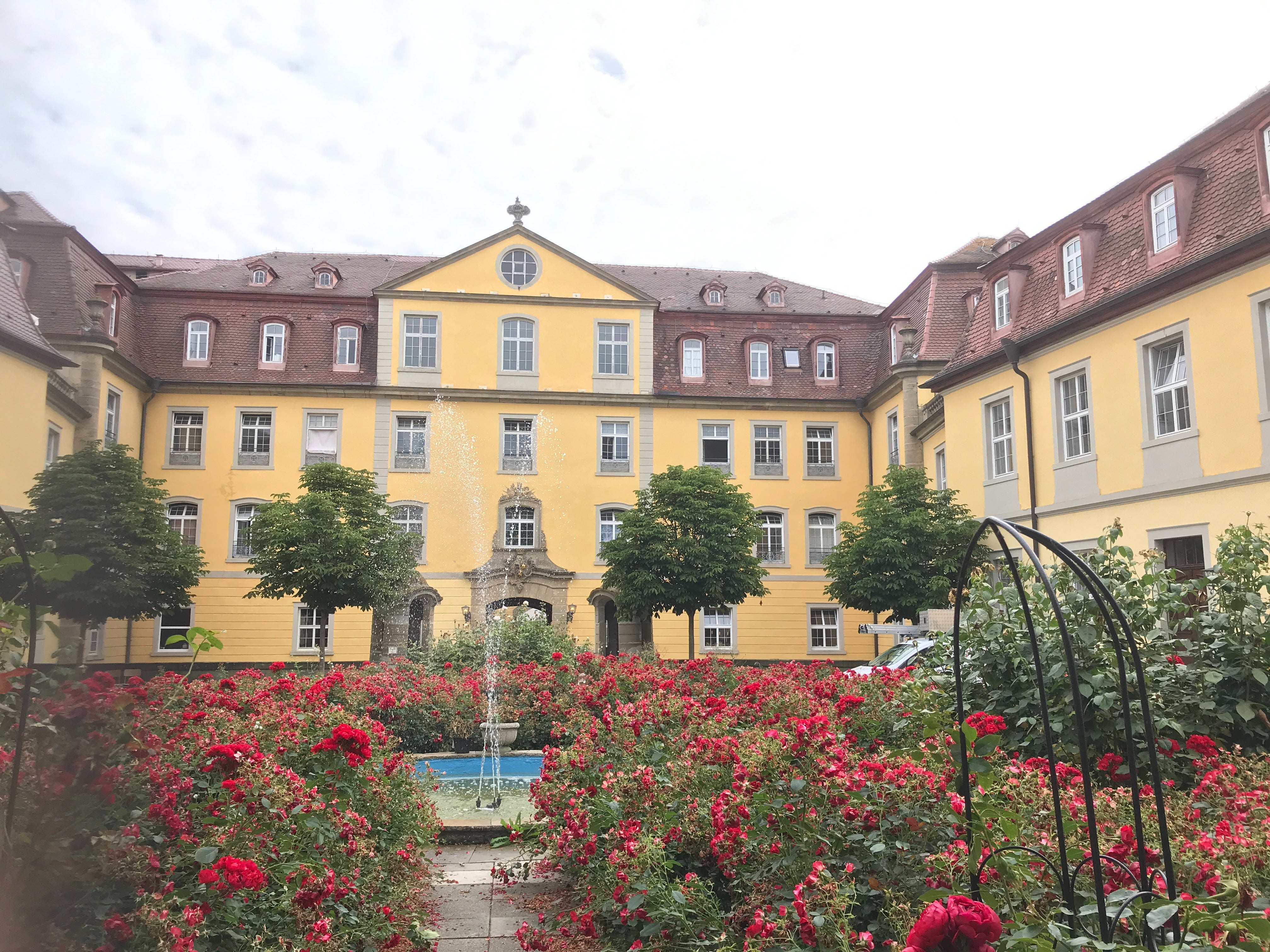 The 20th International Music Workshop and Festival
Schloss Kirchberg an der Jagst, Germany
July 31 - August 14, 2023 (including arrival and departure dates)
Artistic Director: Kyoko Hashimoto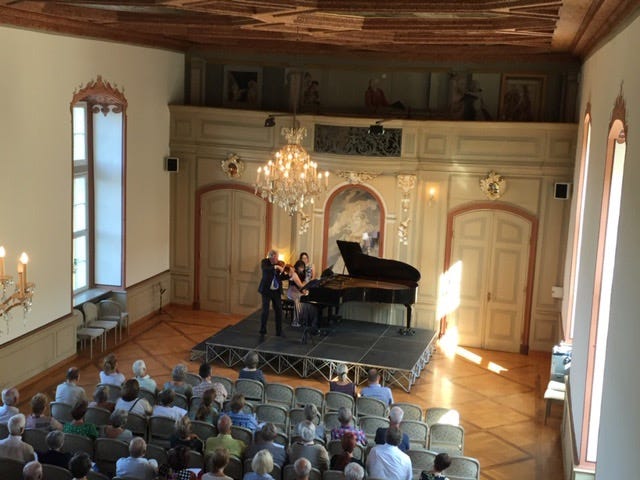 PROGRAM
The International Music Workshop and Festival is a unique, rewarding, and intensive chamber music festival for advanced instrumentalists and vocalists. Participants work with fellow musicians and our world-class faculty in the beautiful Schloss Kirchberg an der Jagst castle. In our small and intimate program, participants will have an intensive daily schedule of lessons and coachings from all faculty members, and the opportunity to work on both chamber music and solo repertoire at a high level.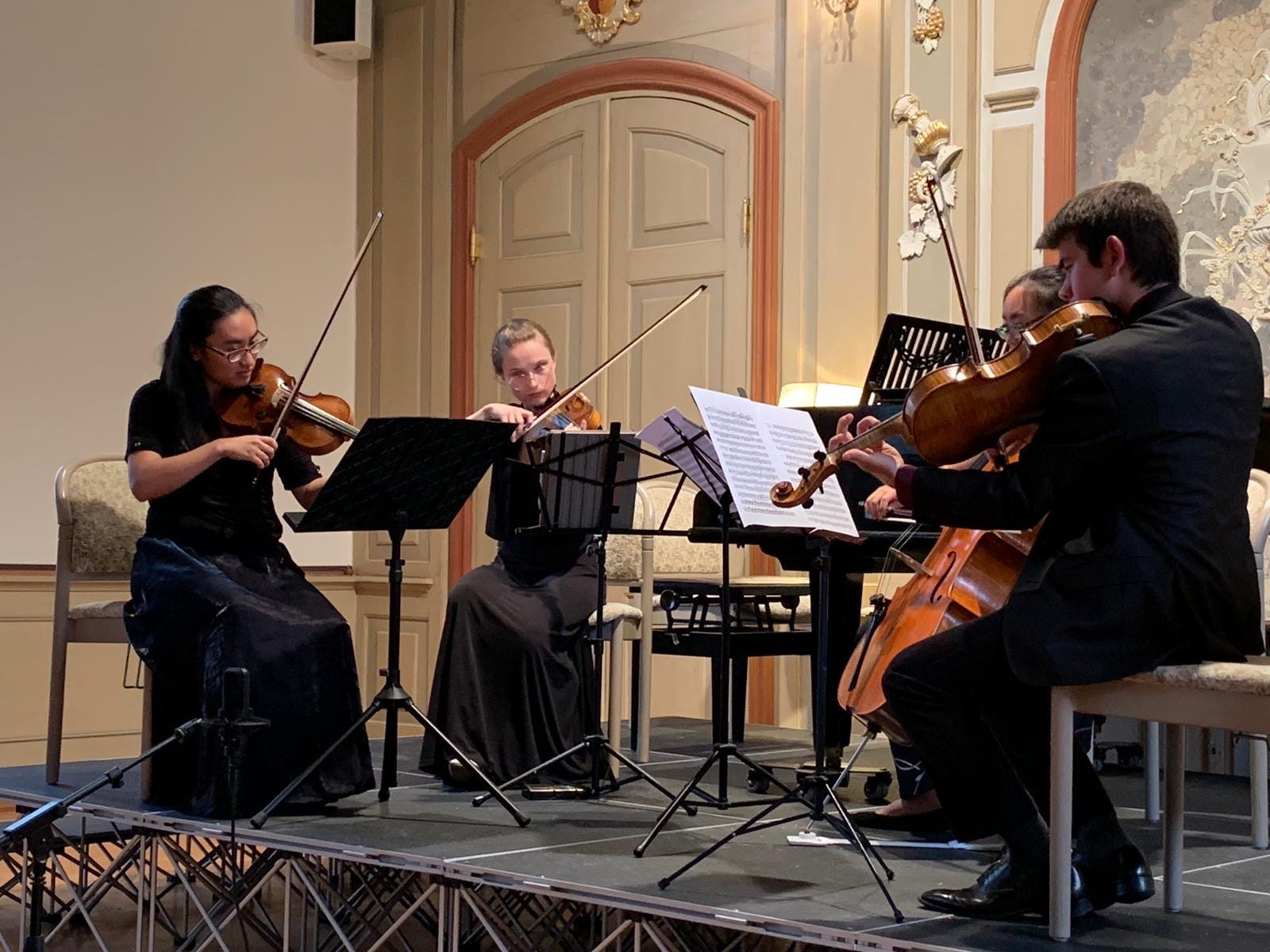 APPLICATION
To celebrate the 20th anniversary of the festival, a very special deal available for returning students!

Several merit-based scholarships are available.

Applicants who have never played for any of the faculty members at IMWAF are required to send video recordings consisting of solo and/or chamber works in at least 2 different styles including one work written before 1830 (a minimum of 20 minutes).
The cost of tuition is 760 euros.

Accommodation plus three meals a day is 50 euros per day with a shared bathroom (or 60 euro per day with a private bathroom, depending on availability).
Participants are welcome to bring guests for 60 euros a day, per guest (either with or without a private bathroom).

Please note that active participants are not allowed to stay outside of the castle.

Generous scholarships available for outstanding participants.
Content from Youtube can't be displayed due to your current cookie settings. To show this content, please click "Consent & Show" to confirm that necessary data will be transferred to Youtube to enable this service. Further information can be found in our Privacy Policy. Changed your mind? You can revoke your consent at any time via your cookie settings.
Consent & Show
The 1st International Music Workshop
Mariánské Lázně, Czech Republic, 2004
Faculty: Kyoko Hashimoto (Piano), Laurentiu Sbarcea (Cello)
The 2nd International Music Workshop
Schloss Kapfenburg, Germany, 2005
Faculty: Kyoko Hashimoto (Piano), Matthias Lingenfelder (Violin), Mick Stirling (Cello)
The 3rd International Music Workshop
Schloss Kirchberg, Germany | August 14-27, 2006
Faculty: Kyoko Hashimoto (Piano), Ellen Jewett (Violin)
The 4th International Music Workshop
Beja, Portugal | August 10-26, 2007
Faculty: Kyoko Hashimoto (Piano), Ekkehard Hauenstein (Flute)
The 5th International Music Workshop
Schloss Kirchberg, Germany | August 2-15, 2008
Faculty: Kyoko Hashimoto (Piano), Laurentiu Sbarcea (Cello)
The 6th International Music Workshop
Schloss Kapfenburg, Germany | August 10-23, 2009
Faculty: Kyoko Hashimoto (Piano), Matthias Buchholz (Viola)
The 7th International Music Workshop and Festival
Schloss Kirchberg, Germany | August 9-22, 2010
Faculty: Kyoko Hashimoto (Piano), Benzion Shamir (Violin), Rafael Rosenfeld (Cello)
The 8th International Music Workshop and Festival
Schloss Weikersheim, Germany | August 12-25, 2011
Faculty: Kyoko Hashimoto (Piano), Laurentiu Sbarcea (Cello)
The 9th International Music Workshop and Festival
Schloss Kirchberg an der Jagst, Germany | July 30-August 12, 2012
Faculty: Kyoko Hashimoto (Piano), Rafael Rosenfeld (Cello)
The 10th International Music Workshop and Festival
Schloss Kirchberg an der Jagst, Germany | July 29-August 11, 2013
Faculty: Kyoko Hashimoto (Piano), Rafael Rosenfeld (Cello), Laura Andriani (Violin)
The 11th International Music Workshop and Festival
Schloss Kirchberg an der Jagst, Germany | August 4-17, 2014
Faculty: Kyoko Hashimoto (Piano), Rafael Rosenfeld (Cello), Alexander Janiczek (Violin)
The 12th International Music Workshop and Festival
Schloss Kirchberg an der Jagst, Germany | July 27 - August 9, 2015
Faculty: Kyoko Hashimoto (Piano), Rafael Rosenfeld (Cello), Alexander Janiczek (Violin)
The 13th International Music Workshop and Festival
Schloss Kirchberg an der Jagst, Germany | August 8 - 20, 2016
Faculty: Kyoko Hashimoto (Piano), Rafael Rosenfeld (Cello), Alexander Janiczek (Violin)
The 14th International Music Workshop and Festival
Schloss Kirchberg an der Jagst, Germany | August 7 - 20, 2017
Faculty: Kyoko Hashimoto (Piano), Mark Gothoni (Violin)
The 15th International Music Workshop and Festival
Schloss Kirchberg an der Jagst, Germany | August 6 - 19, 2018
Faculty: Kyoko Hashimoto (Piano), Helge Slaatto (Violin), Martti Rousi (Cello)
The 16th International Music Workshop and Festival
Schloss Kirchberg an der Jagst, Germany | July 30 - August 12, 2019
Faculty: Kyoko Hashimoto (Piano), Helge Slaatto (Violin), Martti Rousi (Cello)
The 17th International Music Workshop and Festival - CANCELED DUE TO THE PANDEMIC
Schloss Kirchberg an der Jagst, Germany | July 27 - August 10, 2020
Faculty: Kyoko Hashimoto (Piano), James Clark (Violin), Ramón Jaffé (Cello)
The 18th International Music Workshop and Festival
Schloss Kirchberg an der Jagst, Germany | August 2 - August 16, 2021
Faculty: Kyoko Hashimoto (Piano), Laura Andriani (Violin), Ramón Jaffé (Cello)
The 19th International Music Workshop and Festival
Schloss Kirchberg an der Jagst, Germany | August 1 - August 15, 2022
Faculty: Kyoko Hashimoto (Piano), Helge Slaatto (Violin), Ramón Jaffé (Cello)